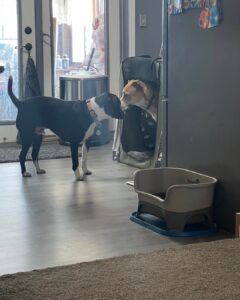 We get asked all the time, "What do I need to bring for my dog boarding?". The short answer is: Whatever you think you need to make your dog comfortable. However, we know that packing for a trip is stressful enough and that packing your car is akin to playing a real-life game of Tetris. So let's help you through some of the important items needed
Some things are required and we can't get around them. First is food. You will want to pack enough food needed for your dog's entire stay. It is not healthy for your dog to eat food they are not used to. They will have stomach issues and they will not be happy. So please bring the food they normally eat and bring enough for their entire stay. When you book with us, we will send you a google form to fill out that will have their feeding times and the amount given at each feeding.
The second is their leash and harness. We need this mainly for emergency purposes. Bad weather, fire, or other evacuation may be necessary. We do have a plan in case of each of these potential incidents, and their leash and harness are integral to this plan. Also, we can walk your dog for an additional fee.
The third is medication. We will administer any medication needed during their stay, including flea and heartworm medications. The google form will also have a section for you to let us know how and when to administer their medication.
Those are the required things we need to make your dog boarding stay comfortable and safe. There are some optional items you can bring if you feel it is needed for your dog. First is their crate. We do require all dogs boarding with us to be crate trained for safety reasons. However, we do have crates here that can be used if you don't want to be bothered trying to figure out how to fit the crate in your car. If your dog is partial and more comfortable with its crate, by all means, bring it. Just know it isn't required.
The second is their dog bed. We have numerous dog beds here for your dog to use. But again, if they are more comfortable with their dog bed, go ahead and pack it. The same goes if they have a favorite blanket.
The third is treats. We have an (almost) endless supply of treats we keep on hand. We use the Rachel Ray Nutrish brand treats. Some dogs may have sensitive stomachs and can only have certain treats. If that is the case, then pack enough treats for their stay. We will only give your dog treats according to your instructions.
Finally, toys. We have toys here. A lot of toys, and when I say a lot of toys, I mean A LOT OF TOYS! They will not be bored here, that's for sure. If they have a favorite toy they can't live without, or it keeps them comfortable in their crate, feel free to bring it along. Just know we will do everything we can to make sure no other dog plays with their toy, we can't guarantee it won't be destroyed.
We strive to make sure your dog boarding will be as comfortable and fun-filled as possible. But we also don't want to add to your vacation stress by having to pack a ton of stuff for your dog. You go on vacation to relax and recharge, your dog will do the same here.