If you ever ran into me, you've heard me talk about my "Fear Free Philosophy". This philosophy stems from the work of Dr. Marty Becker and the great people at fearfreepets.com, who developed the Fear Free Program. Their mission is to prevent and alleviate fear, anxiety & stress in pets by inspiring and educating the people who care for them. So, what is this program all about and why did I choose to follow it?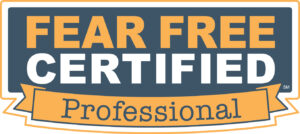 When Kristie and I started this business, we had one main guiding principle: To treat everyone's pets as we would want our pets to be treated. We wanted to find a way to make sure our client's pets were treated right and with respect. We wanted to make sure the pets in our care would be happy, calm, and content. We wanted to find the lease intrusive way to accomplish this. Then we found the Fear Free program.
Founded in 2016, Fear Free provides online education to veterinary professionals, pet professionals, animal welfare communities, and pet owners. Their courses are developed and written by the most respected veterinary and pet experts in the world, including boarded veterinary behaviorists, boarded veterinary anesthesiologists, pain experts, boarded veterinary internists, veterinary technicians (behavior), experts in shelter medicine, animal training, grooming, boarding, and more.
This certification involved studying five modules that includes:
The Fundamentals of Fear Free
Animal Behavior and Enrichment
Staging Success from Greetings to Car Rides
Physical Care and medications
Walks, Wellbeing, and Behavior Concerns.
As a Fear Free Certified Professional-Pet Sitter, it is my goal to prevent and alleviate fear, anxiety, and stress in pets. I do this by greeting your pet in the most considerate manner possible, by tossing treats, turning sideways, or even allowing a shy pet to hide. I read your pets body language to look for signs of comfort and signs of stress. My training will also provide enrichment activities for you pet, which includes puzzles and games that will stimulate your pet/ IF you use our boarding service, I will play calming music and put DogTV on to help relieve the fear, anxiety and stress that sometimes occurs in dogs when they are in a new, strange place.
Of all the courses I took, the Fear Free program has been the best for my business and myself. It has even helped me raise Poe and Finn. The last thing anyone wants is a fearful and/or stressed-out pet.
If you want  more information, I encourage you to check out FearFreePets.com. They even have  a site for pet owners that will give you access to the most cutting edge content and education to help brighten and enrich your pets life to the fullest. You can check them out at FearFreeHappyHomes.com.