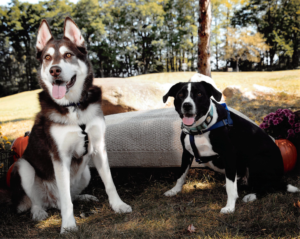 Here we are after our first year in business as a Macomb County pet-sitting and dog-walking business, and what a great year it has been. When Kristie and I started this, we never intended for this to be a full-time business. We had such a great response right from the beginning that we saw a service that was in demand. So we decided to grow the business and learn how we can better serve our clients.
In doing so, we became pet first aid and CPR certified. We, more than anyone, understand your pets' importance to you. And when they are in our care, we treat your pet like our own. So we wanted to make sure if anything happened to them, we were prepared to handle any emergency.
I also became a Fear Free Certified professional-Pet Sitter, through fearfreepets.com. This was a comprehensive online course that taught me techniques to prevent and alleviate fear, anxiety, and stress in pets. These courses equipped me with a scientifically sound knowledge base in animal body language, dog walking, behavior and training basics, enrichment, home life, travel, administering medications, and more so that I can offer top-level Fear Free care to pets and provide owners with basic support and advice.
We also became members of the National Association of Professional Pet Sitters, the only national, non-profit, professional pet sitting association dedicated to raising and abiding by industry standards. This organization has put us in contact with professional pet sitters from across the county. We also utilized their extensive educational resources to better our skills as pet sitters. We believe ongoing education is the best route to make sure your pets have the best care anywhere.
Finally, I went through the NAPPS Certification Course. The NAPPS Certification Course is a broad-range and in-depth self-paced course covering all topics relevant to pet sitting, including pet care, health, nutrition, and behavior for a variety of animals. It also includes business development and management, pet safety, and a complete pet first aid course. The NAPPS Certification acknowledges that the pet sitter is a serious professional who has obtained a high level of expertise through his/her study.
So what's next for Planet paws Pet Care, Macomb County pet sitting and dog walking? First off, we are revamping our website to better serve you. We hope to have this completed before September ends (hopefully Blink-182 will wake us up before then). Also, we will be heading to New Orleans in March for the National Association of Professional Pet Sitters annual conference. We will be networking with pet sitters from across the country and gaining invaluable knowledge from their expert panels on pet sitting. We will come away with even more knowledge and skills to care for your pets.
Finally, we want to say thank you to all our friends, family, business associates, guests, and pet parents. Without your encouragement and support, we could never have made this happen. So…THANK YOU!!!! It has been an awesome year and we are excited to see what year number 2 brings us! Oh, if you are still on the fence about our dog walking services, check out this link for a special for new clients. And feel free to sign up for a free account with us if you are a new client here.
Sincerely,
Kevin, Kristie, Finn, and Poe