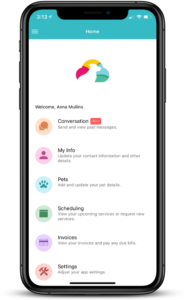 So how do you become a client of Planet Paws Pet Care? First off, for dog walking and Potty and Play visits, you must be in our service area. We service most of Macomb County for pet sitting and dog walking, including Warren, Sterling Heights, and Clinton Township. For dog daycare and dog boarding near me, we accept anyone from anywhere!
Second, you will need to set up an account here https://www.timetopet.com/portal/planetpawspetcare/create-account. We use a portal system called Time To Pet. This portal allows you to receive updates from us on your pet's stay, walk, and/or potty/play visit. You can also schedule services and update your pet's information, including their birthday (we love to celebrate your pet's birthday).
After logging in for the first time, please take a moment to review all the information in the "Pets" section as well as the "My Info" section. If any information needs to be updated, please take a moment to update the info as well. If you have any questions about using the Portal, you can visit the Help Section (http://help.timetopet.com/collection/7-client-portal) or you can contact us directly.
You can also download the Time To Pet app and login using your existing client portal login credentials.
In the app – you can update your information, view, and send messages, request services, and much more. The app also supports push notifications if you'd like to receive notifications when we've sent you a new message.
The app can be downloaded right from the
Apple App Store:
https://itunes.apple.com/us/app/time-to-pet/id957456517?mt=8
Google Play Store:
https://play.google.com/store/apps/details?id=com.sweetss.timetopet&hl=en
You can also just search for "Time To Pet". You can also access the Client Application help documentation right here:
http://help.timetopet.com/collection/149-client-application as well as a video walkthrough Using the Time To Pet Client App – Video"
We look forward to having you be a part of the Planet Paws Pet Care family. If you have any questions, please contact your Macomb County pet sitter.