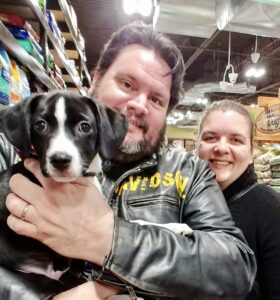 We wanted to share our rescue story and how our dogs came into our lives. This will be a two-part story and we will start with Poe, as we rescued him first. Also, this is Poe's 2nd Gotcha Day anniversary.
We need to go back to October 2019. This is when our dearly loved dog, Luke, passed away from old age. He was a wonderful and quirky dog, and he is very much missed. Kristie was unsure if she wanted another dog, but I was certain we would get another dog. After all, I've had a dog my entire life. It was a matter of when our hearts would heal enough to start the rescue process.
After a month of Luke's passing, I was searching on Petfinder for a dog. I was sure I didn't want a puppy. I didn't want to go through the potty and manners training. Kristie saw me looking at dogs and was still broken up about Luke. She started wandering on Petfinder herself. We discussed what we were looking for. I wanted an adult dog and Kristie wanted a puppy. So, we compromised and would look for a puppy.
Kriste found an adorable 8-week puppy that was being fostered by a great rescue called Bark Bark Wag. She showed me and I found him adorable (later I would discover he was part velociraptor). She put in an application for Louis and his sister, Thelma (get it? Thelma and Louise). She wanted to meet both and sent a message asking if we could come to meet them. The next day we were on our way to a local pet expo when we received a phone call from Sheri, owner of Bark Bark Wag. She said both were still available and if we wanted to meet them, they were going to be at a local pet store for an adoption event.
We delayed our trip to the expo and went to the pet store. We immediately fell in love with both and wanted to adopt both. Remember, I was against getting a puppy, but now I wanted two of them. I'm a big softy and easily influenced when it comes to puppies. We told Sheri we wanted to take both. She said they weren't ready to go home yet and told us to continue with our plans to the pet expos. As she explained, we may see another dog that we like more, and we should explore all our options (a good mark for rescue when they don't go for the quick sale). We did go to the pet expo. However, no one stole our hearts as Thelma and Louis did.
We informed Sheri we didn't see any better dog for us, and we were still interested in Thelma and Louis. She would notify us when they were ready to go home.
We lived a bit of a distance from Sheri, so she was able to arrange for a house visit through one of the other shelters, she worked with. A sidetrack here, a good rescue will always do a home visit before adopting out a dog. And Bark Bark Wag worked with us, even though we were a distance from them. A home visit was conducted, and we passed the inspection.
Sheri called us and said Thelma and Louis would have to be adopted separately as they were starting to get annoyed with each other (another high mark for this rescue, they care about the dogs they rescue and won't let dogs go out that aren't a good fit). We were disappointed of course, but we understood. It didn't matter to us whether we got Thelma or Louis. A few days later, she informed us we could adopt Louis as another couple wanted Thelma. Awesome! We were getting a puppy.
On another side note, Bark Bark Wag put us in touch with the couple about a year and a half later who adopted Thelma. We met the couple and both dogs remembered each other and had a great play date. We have since become friends with that couple and have taken our dogs on camping trips together. But I digress.
The time came when we drove out to adopt Louis. After all the paperwork was done, and hundreds of dollars were spent on toys, food, blankets, beds, crates, treats, and anything else to spoil Louis, we finally brought Louis home, where we promptly named him Poe (after Poe Dameron from Star Wars).
The potty and manners training wasn't so bad and I'm glad we rescued Poe, or rather he rescued us and helped fill a big hole in our hearts after losing Luke.
Today is Poe's two-year Gotcha Day, and I can easily say he is a great dog and a good boy. Every day has been an adventure with him.
Please check out Bark Bark Wag on Facebook.