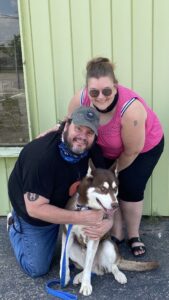 How We Got Finn
Our last article talked about how we came to adopt Poe, now we will talk about how we got Finn. Yes, he's named after Finn from Star Wars. I mean, we had Poe, so this was just a natural name progression. Let me start by saying Finn is a "pandemic adoption". It was May of 2020, and we were having lots of fun and adventures with Poe. We were taking him to the dog park and saw how much he got along with other dogs. Kristie and I then were thinking maybe Poe needs a brother or sister.
Let me back up here a bit. I always wanted a Siberian Husky since I was in grade school and read an article on the diphtheria outbreak in Alaska during the 1920s. I remember reading about the sled dogs and seeing a picture of the famed Balto. I also read about Togo. I was always fascinated by the majestic beauty of the Siberian Husky. I saw all the Husky movies read books and magazines about them, and yes, read about their mischievous ways (oh, and the shedding).
I was never one to get a dog from a breeder, not that there is anything wrong with that. I just always preferred to adopt a rescue dog. So, in all the dogs I rescued, I never came across a husky that needed rescuing. Until the end of May 2020.
I was on Petfinder (again) looking to see what dog might be a pal and friend to Poe. I came across a red husky, that was 15 months old (yay! No puppy!) from I Heart Dogs Rescue and Animal Haven in Warren, Michigan. He had the most beautiful eyes I've seen in a husky, and he had that red color, which was different from the huskies I've seen.
I showed Kristie the picture, and knowing my love and fascination with huskies, she told me to put an application in and see how it goes. So, I did.
We were contacted by the rescue and, as Sherman (as he was known then) had kennel cough, we couldn't do a meet and greet with Poe. But they encouraged us to come by and meet him ourselves. I didn't have to be asked twice. We set a date and we were on our way.
When we got there, they explained that the previous owners had shaved him. Presumably, the previous owner had thought they were doing him a favor due to the heat (Never shave a husky, I'll explain in another blog). They brought Finn out, and he did look a little goofy being shaved. But we didn't care, we instantly fell in love with him. He immediately jumped on us and gave us all the love he could. He also chatted with us. Don't know what a husky chatter is? Look it up on YouTube. It's pretty funny.
We told them we were interested and as soon as his kennel cough was over, we would love to bring Poe down to do a meet and greet. Remember from our last article, that it is important to do a meet and greet with your current dog to make sure they get along. All rescues should do this.
A week later we were told the kennel cough was over and we could bring Poe down. This was the moment of truth. The ball was in Poe's court if we were adopting Finn. We were waiting with Poe in the parking lot, anticipation building. They brought Finn out. He took one look at Poe. Poe took one look at him. For a second time stood still. They went up to each other. Did the secret dog handshake, then the tails went wagging. We let out a collective sigh of relief when they started playing with each other. We were on to the next step, the home visit.
I Heart Dogs Rescue and Animal Haven sent out a volunteer to check out our house. As this was a husky, they were concerned about the backyard. We have a fully fenced-in yard, and they were thorough in checking for gaps, holes, and ways this husky could escape. After a half-hour, they told us our yard was fine and she would recommend that we adopt Finn. Christmas came early for us.
We got the call two days later and were told officially we could adopt Finn. We made an appointment to sign the paperwork and pick him up. The day came and we raced down to I Heart Dogs. The paperwork didn't take long, but it seemed forever. Finally, the ink was signed, and they handed over the keys (leash) to Finn. We rushed home excited that our family was growing, and Poe was going to have a big brother.
We brought Finn into the house after Kristie took Poe outside. I showed Finn the house and he seemed to be very comfortable in the house. We took him to the backyard, so he could meet Poe again. Those dogs played and chased each other for over an hour. They became instant best friends.
Here we are a year and a half later after Finn's adoption, and it has been quite the adventure. Poe and Finn are as close as any two dogs I've ever seen. When I must take one to the vet, it's like the scene from Strange Brew when the McKenzie brothers get separated. Know what I'm talking about? Great! Don't know what I'm talking about? Check out the movie.
Check out I Heart Dogs Rescue and Animal Haven on Facebook.